Plastic Surgeon
HAKKI IZMIRLI, MD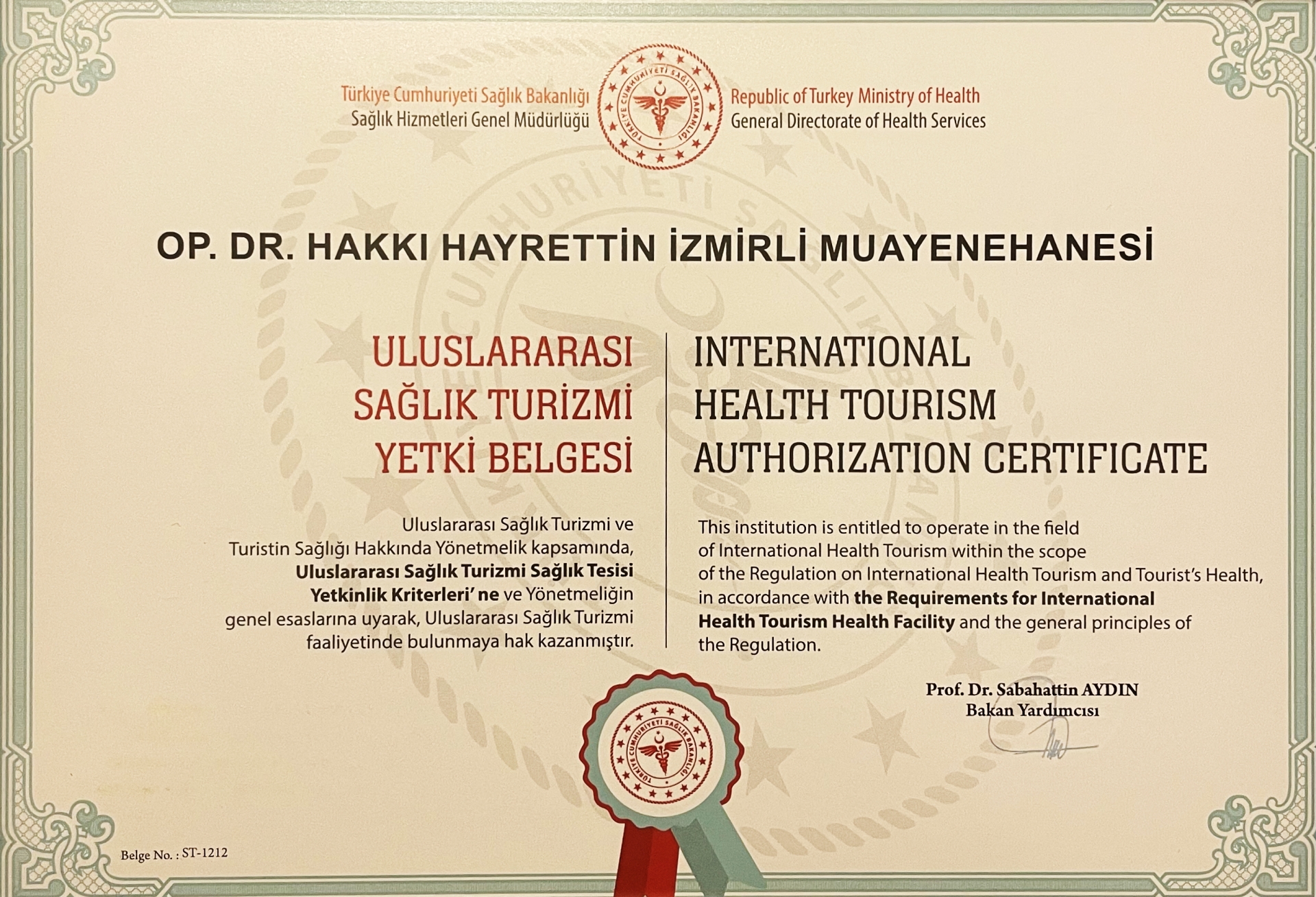 YOUR AESTHETIC JOURNEY GUIDE
Plastic surgery in Turkey is a great inspiration when you find the right clinic for your treatment. Thousands of patients are coming from abroad to Istanbul to have aesthetic surgery procedures, to achieve their goals and to get a better look with our clinic. Turkish doctors' reputation has been growing all around the world. Turkey is very acceptable when it comes to considering price/performance rate as the cost is much cheaper than European, British or other countries.
BEFORE ARRIVAL TO ISTANBUL
After you have researched many clinics and you have made your decision, you will send us your flight tickets so will have you booked your surgery. Then we will be in contact with you in all steps.
WHAT DO YOU NEED TO KNOW BEFORE YOUR SURGERY?
There are a few things to consider before the surgery:
Smoking
We all know that smoking is bad. As plastic surgeons, most of us routinely advise our patients to quit smoking.
So we are recommending you to stop smoking 1 month before your surgery. If you cannot quit for this much time, at least we are asking you to reduce the amount to 4 cigarettes per day so that your healing proccess goes much better.
Alcohol
You should give a little break to night outs with alcoholic beverages!
Alcohol has a blood-thinning effect and it is not recommended in pre-surgical period. Please stop drinking alcohol 48 hour before your surgery.
Medications
All medications you are using you need to specify once you are filling out your medical history form.
We must be informed about them before you come here. We never want you to have any disappointment regarding your journey, so we would like to take any precautions against the potential to affect your procedure in a negative way.
Also, you should not take any blood-thinning medications 2 weeks before your surgery.
Contraception Before the Procedure
If you are using any birth control medication, you need to stop them one month before your surgery.
Contraception pills (Birth Control) are not allowed 1 month before your surgery.
The drugs you Should be Avoided;
PRE-OPERATING
ARRIVAL TO ISTANBUL
The day of arrival to Istanbul the transfer will meet you at the airport and drive you to your hotel or to our clinic (according to your arrival time).
We are only contracting clean and safe tourism certificated hotels. This ensures that our patients have a smooth and comfortable experience with hotel accommodation as well. You can also organize your accommodation, you do not have to stay in our contracted hotels. However, to use your domestic and airport transfers, please make sure your hotel is included in our range of services and check back. After you settle into your room, you will settle in and you can enjoy your first night in Istanbul. Depending on your arrival time, you can also go out and taste Turkish dishes. All of our contracted hotels are in central locations, so you don't have to worry about transportation on your own dates. The day before yourt surgery, you can go out for a tour and taste Turkish food.
CONSULTATION WITH DR HAKKI IZMIRLI
The day you arrive in Istanbul, according your arrival time, your first meeting and consultation will take place with Dr, Hakki Izmirli. The consultation will be held the day before your surgery not the day of surgery. A face-to-face meeting is the most important part of a surgical procedure because everything will be discussed in detail and your expectations will be evaluated by Dr. Hakki Izmirli to be realistic for your case. For the medical record, your photos will be taken, you will ask your questions, and all the details about your surgery will be given to you. Then, you will complete the paperwork regarding your surgery's legal disclaimers and consent forms by the help of your assistant. This will take around 20 minutes to read, understand and sign the required documents. These documents are protecting both sides but more yourself.
After your consultation is over, you will make he payment and you are ready. Then the VIP transfer will drive you to your hotel for resting.
PRE-OP INSTRUCTIONS FOR THE FIRST NIGHT IN ISTANBUL
You should stop eating and drinking at least 7 hours before your surgery. After your first night at the hotel, you should pack your things and be ready for the hospital transfer in the morning of the surgery day.
THE DAY OF SURGERY
You should bring with you comfortable clothes that you will wear on the day of discharge, valuables, your passport, money and charger. After leaving the hotel, you will be picked up by your VIP driver and transferred to the hospital. You will meet your nurse in the hospital lobby and with her help you will finalize your surgical paperwork.
After completing the registration part, you will be taken to the lung scan. It is to make sure your lungs are well enough to have general anaesthesia. After the X-ray you will be escorted to your room. The nurse from the hospital will come to your room, immediately take your blood to send to the lab. Just before the blood test, your operation dress, along with the disposable cap and slippers, will arrive in your room to comply with the surgery dress code. The reason you have a detailed blood test is to make sure your blood results are good enough to have the surgery. No matter how good your health is, you will be safe, which is our main concern.
The anesthesiologist involved in your surgery will come to ask some questions about your medical history. All results will then be reached before the surgery and evaluated by the relevant medical doctors. During this time, your plastic surgeon will come to your room and will make he markings on your body according to your surgical plan. When everything goes through, you will be taken into the surgery room.
DISCHARGE DAY
If you are well enough to return to the hotel with the confirmation of your surgeon, you will be discharged. One or two nights stay in the hospital after plastic surgery is included in your full package (except ear aesthetics, eyelid lift and bichectomy). Before you are discharged, your nurse will come and check your dressings. If everything is ok, your surgeon will prescribe your medications and
you will go back to your hotel with the approval of your surgeon. Once it is determined that you can leave the hospital, your VIP transfer will come to pick you up for your hotel transfer. You will check back into the hotel and you will get some rest.
Your Nurse will be checking you on daily.
EXTRA PAYMENT BEFORE DISCHARGE
There are only a few details that you may need to be charged extra.
In some special cases, you may be required to have a blood transfusion payable at discharge. We do not initially add this cost to your package as it is something you may need very rarely.
In addition, if you want to stay in the hospital for an extra night and it is approved by your surgeon; you will only pay the hospital directly for these nights.
If you need extra treatment you will also pay for this and the price information will be given to you before you decide to have it done.
POST OP CHECK-UPS AT THE CLINIC
Before you go back home, your nurse will be visiting you regularly to check on your wounds, to redress them and to help you for medical needs. The day before you fly back home Dr. Hakki Izmirli will check you to see how everything goes on your body.
Everyone's healing process is individually different. Some people may have healing problems and some may not. Our priority is to send you home safely.
FLY BACK HOME
Now that your final check up is done, you are ready to fly back to your country.
The day of your going home you will be picked up by your VIP driver 3 hours before your flight time and transferred to the airport. We will have given you your flight confirmation one day in advance.
Thank you for reading our carefully prepared plastic surgery guide for you. We just want to make your process as easy and safe as we can. If you have any questions or concerns; we are always here to assist you. Before arriving, while here, and especially after leaving.